Have a single equipment for hiking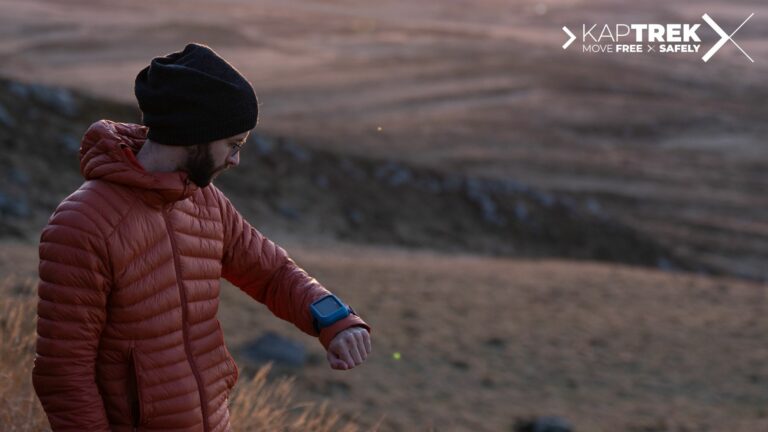 Innovative outdoor Product
If you like to go hiking often, then you equip yourself with a set of necessary objects.
A GPS to trace your route and set off on a safe adventure, a smartwatch to track what's around you and detect changes, a walkie-talkie to be able to communicate, a sports tracking device to track your performance, a safety beacon to call for help, a drone remote control if you want to make memories from your hike.
But isn't a lot to bring with you all these equipment? Weight, volume, think to recharge them, need to know how to use them, and even always stop during your activities to use them. And isn't it too expensive? More than 1000€ for all these devices.
Today, thanks to the evolution of innovation in the outdoor world, a new connected device has been developed to meet these needs, and to gather all the functionalities of these objects on a single product.
We call it KAPTREK: the ultimate outdoor action controller all in one.
Do you practice another outdoor activities in parallel to hiking? It will accompany you.
Kaptrek, the all-in-one action controller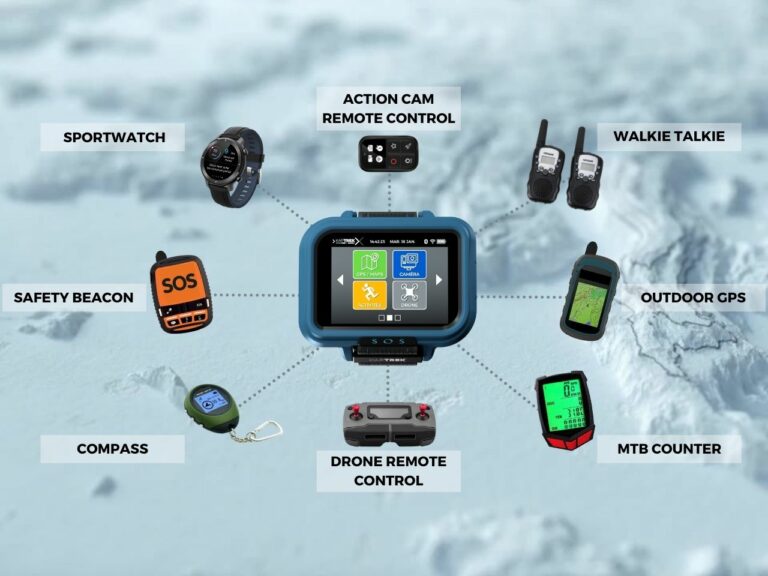 Kaptrek is the Action Controller. This is the first innovative digital device, all-in-one designed for all outdoor activities for free and secured practice. It gathers all the features of the above products.
The product is led by a XL touch screen, which you can use even with gloves.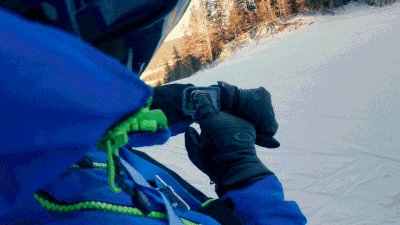 To accompany you in your hikes the product has been oriented towards three main axes:
Safety
While hiking, safety is primary, Kaptrek allows you to be safe thanks to the SOS function on the product.
Based on GSM network, your last position is recorded and sent to rescue and all your contacts.
Connectivity
Do you like to keep memories of your hikes ? Are you equipped with a DJI drone or a GoPro? The Kaptrek allows you to pilot your drone or GoPro (from Hero 9 models) by connecting the product with these devices.
Kaptrek allows you to manage takeoff and landing of your drone, and to launch automatic following system.
You can get the video preview of what you're shooting on the big screen.
Kaptrek screen size is 2,4 inches, means 5,2cm x 3,2cm / 2,05'' x 1,26''.
The display area is 800 x 480 pixels, so a beautiful screen with great visuals, even readable in direct sunlight.
And finally, the last thing about connectivity is that you can collect information about your activity, such as your speed or distance, the localized weather, the oxygen level thanks to the various connected data.
Community
Are you hiking in a group? Kaptrek offers its users to communicate with each other, you can make or receive calls, send messages, geolocate your friends through collaborative GPS.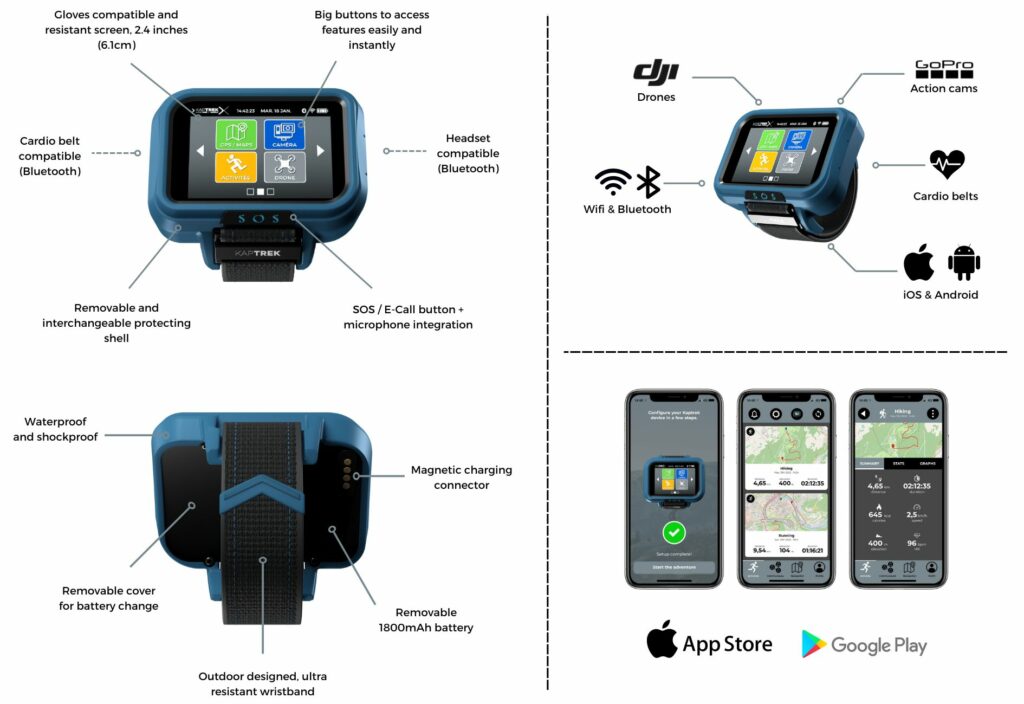 In conclusion, what is kaptrek ?
Kaptrek is not only a smartwatch, it is totally different use: you can wear it on your wrist, your arm, your backpack, you ski jacket, your belt, your bicycle handlebar… Fully resistant to water (IP67), shocks, hot, cold, etc.), Kaptrek allows to find the right function very simply and quickly.
The 1800mAh battery allows you  a sufficient capacity for a day of practice of 8h, by using all the features (GPS, Wifi, Bluetooth, …). Rechargeable by USB, you can increase your battery life over several days thanks to a power bank. You can even change it thanks to the removable battery, to go through several days of hiking.
In conclusion, Kaptrek is your perfect ally for hiking, and all other outdoor activities.  
Trackback from your site.